District 1199 was founded in 1932 by a small group of drugstore workers in New York City. Early on, members launched an ambitious campaign to end drugstores' discrimination against hiring black pharmacists. And in seven weeks, we won.
Taking action together has always been how health care workers have won improvements — whether we're in contract negotiations for a raise, at work defending someone being treated unfairly, or lobbying at the State Capitol for safe staffing levels.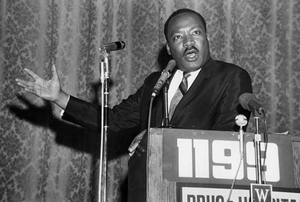 Often called "my favorite union" by Martin Luther King Jr., District 1199 is a bold, democratic labor organization with a long activist tradition. Since the New England branch of 1199 was established in 1968, we've united more nearly 30,000 workers to win a voice at work to demand improvements for people in nursing homes, hospitals, state – and community-based healthcare services.
By standing up for ourselves the people we care for, 1199ers have won:
Guaranteed pay increases, health coverage, and benefits spelled out in a union contract that members have negotiated.
A voice in the decisions that affect our patients and clients so we can make sure quality care comes before profits.
A democratic organization where members elect our leaders and decide our policies.
A place to turn to for help when there's a problem at work.
A way to improve our community by making public officials and big corporations listen to our needs for a change.
Today, 29,000 healthcare workers in Connecticut and Rhode Island are united together at District 1199 — including nurses, direct care workers, CNAs, cooks, case managers, therapists, doctors, maintenance staff, home care workers, and other essential workers.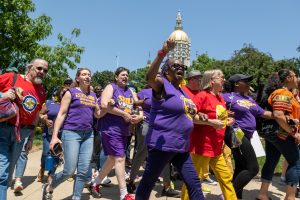 We've accomplished a lot, but we can win even more improvements when all health care workers are united in one union – so one of our top priorities is helping more health care workers join with us. If you work in Connecticut, you can get more information on forming a union by calling (860) 549-1199. If you work in Rhode Island, call (401) 457-5099.