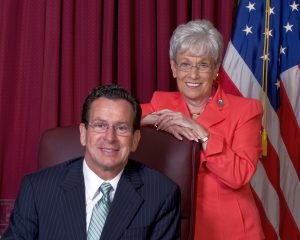 Connecticut Governor Dannel Malloy and Lieutenant Governor Nancy Wyman are joining a growing chorus of voices — including residents' family members, elected officials, and other community leaders — to lend support to 700 nursing home workers on strike since last week against HealthBridge for unfair labor practices.
The Governor and Lt. Governor joined workers on the picket line this morning in Newington:
In addition, the Governor issued the following statement:
After months of negotiating, it is now clear that HealthBridge has taken what can only be characterized as unfair actions against their employees. By essentially cutting wages and benefits for their workforce in our state in a unilateral fashion, HealthBridge has, as the National Labor Relations Board (NLRB) pointed out last week, pursued a course of "unfair labor practices." In fact, the NLRB went so far as to call for an order to rescind HealthBridge's current actions and to reimburse workers for the lost wages they have suffered as a result.

This comes at a time when many other nursing homes in Connecticut have agreed to reasonable contracts over the last year. HealthBridge is the exception, and not in a good way.

These types of tactics are unacceptable. They negatively impact the lives of the residents who live in these nursing homes and the residents' families because the continuum of care gets interrupted. These residents rely on their caregivers for more than just medical care; they also provide companionship, sometimes the only companionship the residents can regularly count on.

HealthBridge's tactics also clearly do not recognize the critical, compassionate work performed by these workers every day. They do jobs that are oftentimes unimaginably difficult, and they perform their duties with grace and compassion. All they ask for in return is the dignity of being able to bargain fairly, and in a collective fashion, for their wages and benefits. It's not too much to ask.

As this process continues to play itself out, I have directed Department of Social Services (DSS) Commissioner Rod Bremby to do everything in his power to assist these workers as they apply for whatever state benefits they might now be entitled to access.

In the meantime, I want these workers to know that Lt. Governor Wyman and I stand with them in their struggle. They deserve better than they're getting, and we'll stand with them until they're treated with the dignity and respect that they deserve.