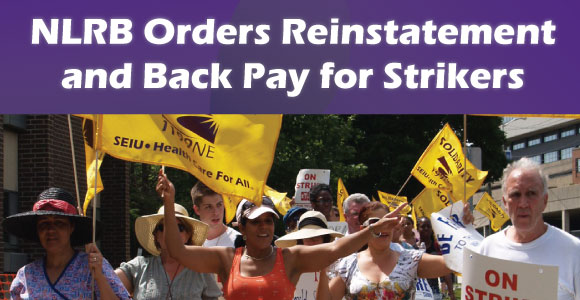 In its latest charges against HealthBridge, the National Labor Relations Board (NLRB) has ordered the company to "immediately reinstate the unfair labor practice strikers to their former positions, and to reimburse all unfair labor practice strikers for the lost wages and benefits incurred since July 3," the day on which nearly 700 Connecticut nurses, aides and nursing home support staff went out on strike.
The wide-ranging Complaint issued this week charges that HealthBridge did not, in fact, bargain "with the Union to a good-faith impasse" as it claims it did before it unilaterally implemented crippling cuts to employee pay and benefits.   The Board also determined the seven-week-old strike "was caused by [Healthbridge's] unfair labor practices", and that the corporation made illegal threats to permanently replace workers who were striking to protest the violations.
The Board also says the New Jersey-based chain violated the law when HealthBridge refused to reinstate workers after the Union made an unconditional offer to return to work under the terms that existed prior to the unlawful implementation.  The offer legally satisfied the unconditional return standard because the benefit changes were against the law.
HealthBridge spokespeople had consistently claimed judges would dismiss the NLRB's charges.  But in two rulings recent passed down by administrative law judges, the judges have found HelathBridge guilty of unlawful labor practices.  One judge even called the company's behavior "a blatant violation" of the federal laws that protect workers' rights.
Despite claims that unilateral changes to employee contracts were "perfectly legal", HealthBridge has been the subject of a half dozen Complaints in which it was determined to have "failed and refused to bargain in good faith with the Union".   The Union expects more rulings against HealthBridge next month, when the NLRB is set to prosecute the company for the unlawful changes to terms and conditions of employees' labor contracts.
President of the New England Health Care Employees Union, District 1199, SEIU David Pickus said, "What's happening to workers and the patients they care for as a result of HealthBridge's greed is beyond unconscionable; but this isn't just about economics.  Over the past two years, more than 50 nursing homes across the state have quietly settled contracts with their employees.  Only HealthBridge has so consistently flouted the law and violated workers' rights that it drove its employees out on strike," continued Pickus. "HealthBridge needs to stop breaking the law—and wasting taxpayer money cleaning up its legal messes—and start paying for the care our state's elderly and disabled deserve."