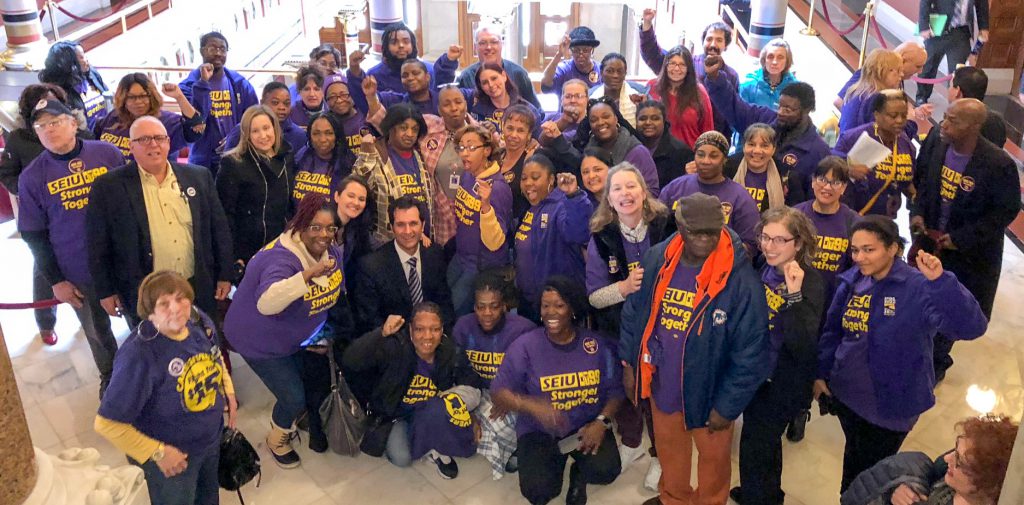 Wage Increases for PCAs who make less than $15/hour (75% of our Bargaining Unit):
PCAs who make less than $15/hour will enjoy a 30% increase in our minimum rates, up to $15/hour by July 2018 and up to $16.25 by July 2020.
Companions and hourly respite caregivers will enjoy a 43% increase in our minimum rates, up to $15/hour by July 2019.
Wage Increases for home care workers who make more than $15 /hour and daily per diems: For those caregivers making more than $15/hour AND those making daily per diem rates, we will receive an overall 6.5% increase between July 2018 and January 2021.
Workers Compensation: All PCAs will gain Workers Compensation insurance, which will be implemented after July 1, 2018 and no later than January 1, 2019.
Holiday Pay: All PCAs will be eligible for time-and-a-half pay if they work on 4 holidays in the first year of the agreement (Independence Day, New Year's Day, MLK Day, and Memorial Day) and on 6 holidays in the second year (all of the above plus Thanksgiving Day and Christmas day).
No Cap on Wage Ranges: The State will not cap on our wage ranges.
Direct Join: Language to allow members to directly join our Union to keep our organization strong and continue to win campaigns.
Training and Orientation: The State will increase funding for our training and orientation programs.  The State will provide also increase the stipend amount for orientation completion.
Direct Deposit: All PCAs will be on direct deposit by July 1, 2018 or a payment card by August 1, 2018.
Term of the Agreement: The term of the Agreement shall be July 1, 2018 till June 30, 2021.