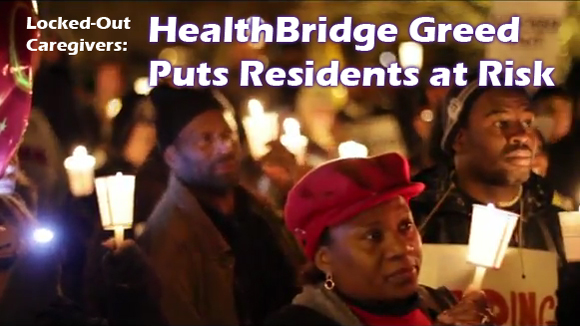 HealthBridge nursing homes should be putting fragile residents' needs first, but they are more concerned with putting profits in the pockets of their out-of-state investors.  They have locked out more than 100 caregivers in Milford, CT and disrupted the continuity of care for the residents we care for – and they are threatening to lock out hundreds more.
To learn more, keep reading below or click here to watch a video with testimony from residents' family members, workers, and our supporters.
Seeking Profit at the Cost of Care
Even though the company itself admits that it is financially fine, it came to the table with caregivers this year and demanded that we accept huge cuts.  HealthBridge proposed raising individual healthcare costs by more than $100/month and family costs by more than $700/month, along with ending our retirement plan and our training fund where we work to improve our skills as caregivers.  They even want to nickel-and-dime us out of our paid 30-minute lunch break.  Every dollar that is moved out of front-line care goes into the pockets of rich out-of-state investors — hurting employee retention, resident care, and even Connecticut's economy.
Locking Out Experienced Workers to Bring in Temps
Because we wouldn't accept the cuts, on December 13, HealthBridge locked out 100 caregivers at West River Care Center in Milford.  Dedicated, experienced workers showed up to work and were turned away, while temp workers, strangers to the residents and their needs, took over.  Now HealthBridge is threatening to lock out 600 more workers at 5 other nursing homes, putting their residents at risk and our own families in crisis.  And all this—hurting hundreds of residents, workers, and their families– just to make a buck for owners who don't live around here and are already rich.
HealthBridge: Connecticut's Scrooge
Residents at West River are upset that the caregivers who bathed, fed, and dressed them for years are suddenly gone, and the workers themselves are scrambling to make ends meet after our jobs were taken from us.  We cannot allow HealthBridge's profiteers to hurt our communities, our residents, and our state's economy.  Our seniors deserve better.