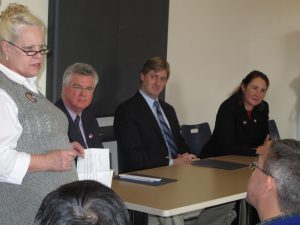 Kicking off the 2012 elections, hundreds of 1199 and other SEIU members gathered at our annual Political Action Conference in mid-January, held at Central Connecticut State University.
"It's important for healthcare workers to be here, because politics runs the world," said Ellen Jeffries, a CNA from Blair Manor nursing home. "The class warfare against working people scares me. The rich 1% will get out and vote. We can't let someone decide for us – we have to vote!"
At the conference, members interviewed candidates running for U.S. Congress and seeking 1199's endorsement, including:
Susan Bysewicz, Chris Murphy, & William Tong — each running to replace retiring U.S. Senator Lieberman
Chris Donovan, Elizabeth Esty, & Dan Roberti – each running to become the new U.S. Representative in the 5th Congressional District (Waterbury, New Britain, Meriden, Danbury and western CT region)
Jim Himes – running for re-election to U.S. Representative – 4th CD (Fairfield County)
Joe Courtney – running for re-election to U.S. Representative – 2nd CD (Eastern CT)

As always, 1199 members then together discussed the pros and cons of each candidate and made recommendations on who 1199 should support. These recommendations are then forwarded to the elected rank-and-file 1199 Executive Board for final action.