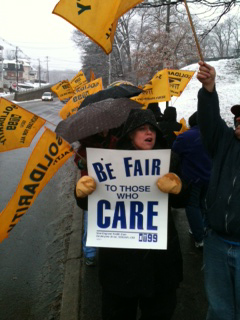 On the day their union contract was set to expire, health care workers employed by Waterbury Hospital demonstrated their anger at the status of contract bargaining (which began on January 25th) by picketing outside of their facility in advance of that evening's negotiations.
Nearly 75 union members took part in the action, in spite of the snow and rainfall.
"Today, Waterbury Hospital workers are protesting management's negotiating demands to cut their union pension and health insurance," stated Steve Thornton, a vice president of District 1199SEIU which represents a total of 450 service and maintenance workers at the Hospital.
"Workers are also faced with a dozen other giveback demands including the elimination of overtime and call-in pay," Thornton continued. "Furthermore, they have demanded we give up Martin Luther King Day as a premium holiday.  I wonder if they are even aware of how insulting it is that they make this proposal during Black History Month?"
The Union believes that the upcoming sale of the Hospital to the Texas-based LHP, a private equity company, is behind the Hospital's giveback demands.
"The Hospital cries poor in order to cover the layoff of 75 employees last week," Thornton said. "And yet they spent almost $7 million on their top ten administrators alone in the last two years.  No wonder they claim financial distress."
"We will not let them balance their budget on the backs of workers and their families."