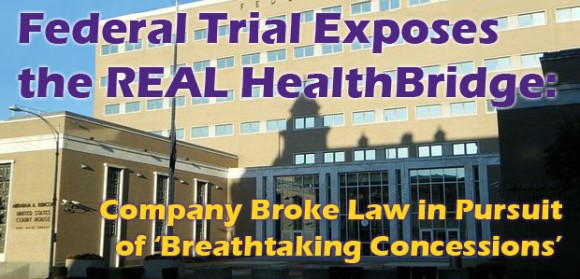 It's been more than two months since nearly 600 Connecticut nurses, aides, and nursing home support staff went out on strike after their employer, HealthBridge Management, illegally and unilaterally imposed a new contract without workers' agreement — deeply cutting their compensation, benefits and working conditions.
Several of the federal Complaints against the company are now being prosecuted by attorneys for the National Labor Relations Board (NLRB) before an Administrative Law Judge in Hartford, CT.  The NLRB has filed a rare injunction against the company to get striking workers back on the job.  The trial began on September 10th, as the Hartford Courant reported:
NLRB attorney John McGrath said in his opening statement that the company's offer was predictably unacceptable. He said that HealthBridge bargained in bad faith by locking out employees to try to force the union to accept that offer, and by threatening to close the nursing homes if the union didn't agree to what he called "breathtaking concessions."

"They declared impasse where no impasse existed in reality or in law," McGrath said. […]

"The [labor relations] act does not require one party to trudge through marathon rounds of pointless negotiations with a counterparty that does not want an agreement, but rather surrender." McGrath said.
The trial will reconvene in October. Meanwhile, the strike continues, and the workers continue to pick up support from throughout the community – including at NYU, where HealthBridge principal Daniel Straus is a member of the law school's board of trustees.
A group of NYU students recently joined HealthBridge caregivers to call attention to Straus' hypocrisy in funding an institute at the university devoted to law and justice, while his company violates its own employees' rights under federal labor law.  As the NYU student paper reported:
Gallatin junior Caitlin MacLaren was one of the main organizers of the NYU protest with Student Labor Action Movement. She hopes the demonstration will have an impact on Strauss' alleged behavior. "[We hope that] Daniel Straus will clean up his act, start respecting workers and that his company will treat their workers fairly," MacLaren said.