Health care workers have a long history of supporting public health initiatives, and we know how important immunization is in helping prevent the spread of illness.
But we also know that health care choices are intensely personal matters – which is why we object to the new regulation being proposed by the RI Department of Health that would mandate that all health care workers receive an influenza vaccination every year. Workers who decline the vaccine would be required to wear a surgical mask at work or face fines and disciplinary action.  That's why we're saying:

Click here to send a message that flu vaccines should be encouraged, but not mandatory!
We already delivered over 1000 signatures at the Public Hearing on the rule that was held on Friday, September 21 at the Department of Health, where 1199 members and our allies testified overwhelmingly against the proposal.  The Providence Journal reported:
"I do not feel the government has the right to strong-arm anyone into something which they find objectionable," said Catherine Mainville, a nurse who noted that she gets the flu shot every year. […]

Of the 24 people who spoke, 19 opposed the mandate. Union leaders also presented petitions that they said were signed by hundreds of their members.

Representatives of the Service Employees International Union (SEIU) and the United Nurses and Allied Professionals (UNAP), along with the Rhode Island Affiliate of the American Civil Liberties Union, opposed the rules as a violation of constitutionally protected liberties and national labor laws.

Health-care workers are already required to prove that they are vaccinated against an array of illnesses, such as measles, rubella and pertussis.

But extending that requirement to the flu came under fire because flu shots are not 100-percent effective and, the critics said, there is not enough evidence that vaccinating workers actually prevents illness in patients. […]

Rather than mandates, health-care workers need education, said William K. Borwegen, the SEIU's director of occupational health and safety. "We support vaccination. We can get there," he said. "We don't have to create all this acrimony in the workplace in order to get there."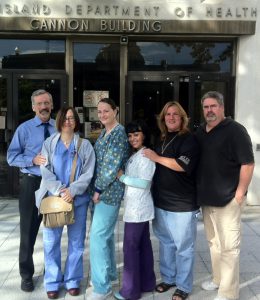 1199 encourages all health care workers to get the flu vaccine, but we respect the fact that some people choose not to for health, personal, or religious reasons.  Forcing these individuals to wear masks doesn't make any sense. There's no scientific evidence that surgical masks help prevent the spread of the flu, and those we care for could feel threatened or uncomfortable if their care givers are wearing masks.
That's why we need to send a strong message to the Department of Health. Health care workers should be allowed to "opt-out" of receiving the influenza vaccine for personal, medical, or religious reasons — and not have to face mask-wearing, exorbitant fines, or disciplinary action as a result of their personal health care choice.
Please, sign the petition today!