The union representing about 100 nursing assistants, maintenance workers and other staff at Bannister Center for Rehabilitation and Nursing in Providence began a three-day strike on Friday over demands for mandatory minimum staffing levels and pay increases.
Unionized workers returned to their jobs at the Bannister Center for Rehabilitation and Nursing Monday morning, after a three-day strike ended with no clear indication of whether the two sides are any closer to an agreement.
There are "no additional negotiations sessions planned, though workers have indicated they are prepared to go back on strike if they continue to make no bargaining headway,'' Amelia Abromaitis, a spokeswoman for the union said in an email.
The Service Employees International Union Local 1199 New England said last Friday that Bannister's operators had declined the union's proposals for a three-year contract that includes mandatory minimum staffing of over 4.1 hours of direct care per day, wage increases, health benefits and training. Workers were planning to return to work on Monday and take another vote to extend the strike indefinitely, Adanjesus Marin, of SEIU Local 1199, said Friday.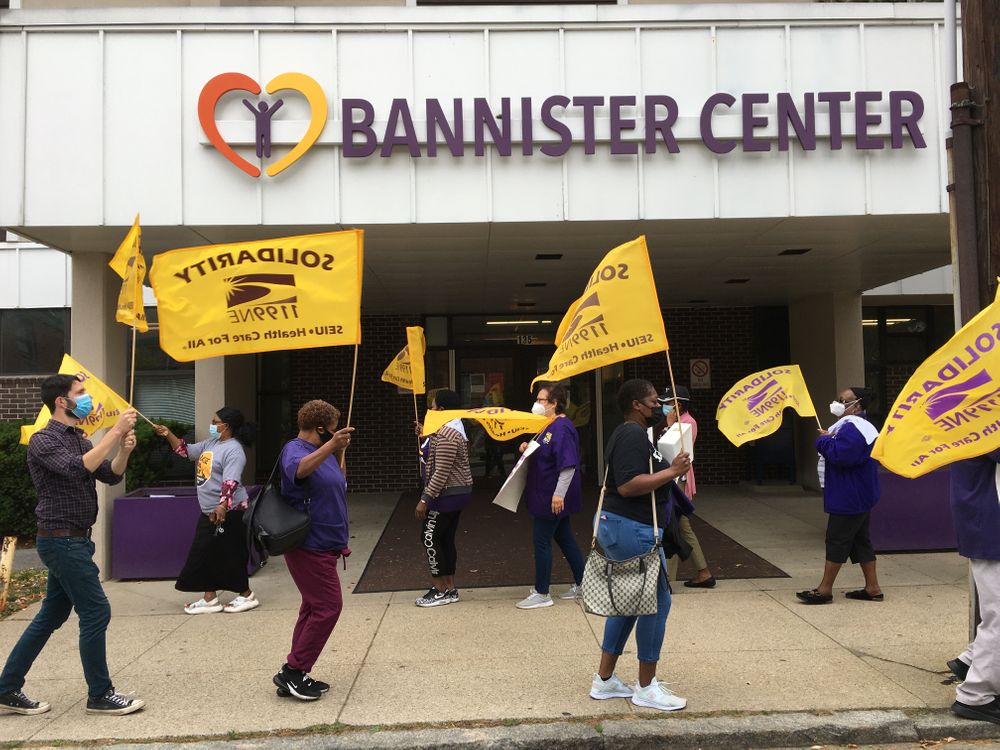 The strike followed a series of protests following outbreaks of the coronavirus in nursing homes in Rhode Island and across the country exposed chronic staffing shortages . Legislation introduced in the Rhode Island General Assembly last session to mandate minimum staffing levels at nursing homes died in a House subcommittee. House lawmakers instead voted to create a commission to study the issue.
"The House…decided to turn their backs on nursing home residents and caretakers,'' Marin said. "The governor promised that she was going to address staffing. The Department of Health, which has all the power in the world to establish regulations, hasn't. All of that sends a message to the workers that the only way to get what they need for residents is to go on strike."
Scott Fraser, president and CEO of the Rhode Island Health Care Association, which represents the state's for-profit nursing homes, said in a statement: "The effect of a walking out on residents during a pandemic at a nursing home is clear – it's a harmful and heartless thing to do as it puts residents in the home at risk…" Fraser said he hoped the workers will "see this clearly and come back to their places of work to negotiate at the table."
The picketing began just before dawn on Friday and lasted into the evening. Workers wearing masks and waving yellow union signs marched outside Bannister Center, which sits in upper South Providence, once of the city's poorest neighborhoods. Many of the nursing home's employees are Black and Latino, and some earn as little as $12 an hour.
"We made the difficult decision to strike because we feel that management is putting us at risk each day by refusing to give us safe staffing, especially during the pandemic,'' Tenah Nimmo-Powell, a supply clerk who was out of work for two months after contracting the virus, said in a statement. "We need the company owners who sit behind desks in New York to start valuing the safety of caregivers and residents. We need more staff, better wages and health care we can afford."
Bannister was among the state's nursing homes hard-hit by the coronavirus. Since March 1, as many as 94 residents have tested positive for COVID-19, and as many as 19 of those residents have died as of Sept. 30, the latest available data from the state Health Department. As of last May, state health officials said that 14 staff members at Bannister had contracted the virus; one of them died. (The Public's Radio and ProPublica co-published a story about workers at Bannister who contracted the virus, including a receptionist who died.)
Bannister is operated by New York-based Centers Health Care, which also operates two other for-profit nursing homes in Rhode Island: Oak Hill Center in Pawtucket and the Kingston Center in Exeter. The company bused in about 50 temporary staff to fill in during the strike, Jennifer Bramley, a spokeswoman for the Rhode Island Health Care Association, which represents the state's for-profit nursing homes. "Everybody from maintenance to CNAs to dietary aids,'' she said, "they were able to fill all of the positions.''
State and federal regulations require that all licensed healthcare facilities have adequate staffing to provide clinical care for their patients, Annemarie Beardsworth, of the state Health Department, said in an email.
Bannister is licensed for 160-beds but currently has 104 residents, Bramley said, meaning it's operating at about 65% capacity.
Two other unionized nursing homes — Charlesgate Nursing Center, in Providence, and Greenville Skilled Nursing and Rehabilitation Center, in Smithfield — recently reached contract settlements with minimum mandatory staffing guarantees, the union said in a statement. The Greenville contract guarantees "well over 4.1 hours of daily hands-on care," and the contract with Charlesgate will "more than double the current hours of care per resident,'' the statement said. The union said the contracts also include "protection against mandatory overtime, significant wage increases, affordable healthcare and language ensuring increased nursing home funding at the state level goes directly to worker wages."
Rhode Island nursing homes provide, on average, 3.8 hours of nursing care per resident, which is below the national average of 3.9 hours, according to an analysis by The Public's Radio of fourth-quarter 2019 data from the federal Centers for Medicare & Medicaid Services. Rhode Island is tied with Massachusetts for the lowest nurse staffing ratio in New England.
Nine of Rhode Island's 80 nursing homes are unionized. Six are represented by SEIU Local 1199 New England; two are represented by the Laborers' International Union and one is represented by the United Food & Commercial Workers.
The walk-out at Bannister marks the first time in nearly two decades since workers at a Rhode Island nursing home went on strike. In 2001, unionized workers at a nursing home in Smithfield walked off the job citing a proposal by the nursing home's operators to eliminate nursing assistants' jobs. The Providence Journal reported at the time that the 20-day strike at Wildflowers Health Care by the Water ended when the SEIU and the company agreed to eliminate three jobs that were vacant.
story updated Monday 2:24 PM