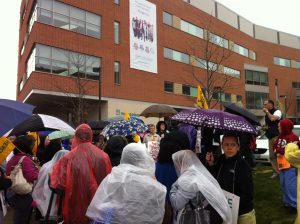 Afternoon rain couldn't dampen the spirits of picketers at Women & Infants Hospital – where over 400 nurses, CNAs, technical, clerical, and service & maintenance workers marched and chanted throughout the day to call on management to improve staffing levels and hire local nurses instead of subcontracted "travelers."
We got excellent media coverage of our event, including Channel 10, Channel 12, the Boston Globe, the Providence Journal, and RI Public Radio:
Women and Infants union members picketed outside the hospital Wednesday to raise awareness about a proposal to hire temporary nurses from out of state.

The Women and Infants employees are calling on the hospital to offer permanent positions to local nurses instead of hiring so called "traveler nurses." These nurses come from outside staffing agencies and travel to hospitals that need temporary help.

The union known as SEIU District 1199 says temporary nurses aren't as familiar with the hospital's operations and might compromise its quality ratings in addition to taking local jobs.
Staffing is a major issue at the hospital in all job classifications – and we're going to keep the pressure on management to ensure safe staffing practices and protect the excellent reputation of our hospital.