Negotiations will continue with 16 remaining nursing homes without contracts.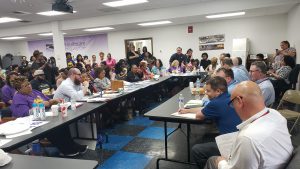 Over 1,000 caregivers reached an agreement for a new contract with iCare facilities on Friday to avert a strike in Connecticut nursing homes.
The new contract covers a period of March 2017 through March 2021, with a commitment for significant wage increases each year retroactive to November 2018 through January 2021, plus other benefit considerations.
"This is a major victory for our Union members who are truly deserving of these wage raises and improved benefits," said Rob Baril, president of SEIU 1199 New England. "We feel proud of this achievement, and we are confident that we'll be able to settle all pending contracts for our members in the near future."
SEIU 1199 sent notices to the 25 nursing homes under strike notice for June 3rd that the union will desist from going on strike. The new contract is subject to additional funding in Medicaid nursing home rates in the state budget that were previously announced by Gov. Ned Lamont's administration.
"We thank our members for standing up for their rights and engaging in political action to make this victory a reality. We also want to recognize our state leaders in the General Assembly and Governor Ned Lamont for following through on their promises of fair wages and benefits for nursing home caregivers," said Baril. "Now our nurses, nursing assistants and all Union staff can focus on providing the best quality care possible in our nursing homes."
SEIU 1199 Union members have a long history of success fighting for health care workers' rights and quality services for people in need. We advocate for living wages for all workers -black, brown and white- and adequate resources to do our jobs well. The Union represents 26,000 health care workers in Connecticut. Some 7,000 members are nursing home workers classified as registered nurses, licensed practical nurses, certified nursing assistants, maintenance, receptionists, recreation and dietary staff.
25 NURSING HOMES AFFECTED BY STRIKE NOTICE (Withdrawn) –
Nine iCare facilities (contract settled):
Bidwell
Westside
Silver Springs
Farmington
Chelsea Place
Trinity Hill
Wintonbury
Kettlebrook
Chestnut
Five Traditions facilities:
Westport Rehabilitation Complex
Long Ridge Post-Acute Care
Newington Rapid Recovery Rehab Center
West River Rehab Center
Western Rehabilitation Care Center
Four Autumn facilities:
New Britain
Waterbury
Norwalk
Cromwell
Two National facilities:
Bloomfield Center for Nursing and Rehabilitation
MapleView Health & Rehabilitation Center
Plus these five facilities:
Windsor Health and Rehabilitation Center
Advanced Center Nursing & Rehabilitation
West Hartford Health & Rehabilitation Center
Orange
JACC Norwich