Union officers and caregivers are working together with administrators from Genesis HealthCare to secure the jobs of approximately 2,000 caregivers and nursing home services for 1,400 residents.
State policy mandates that nursing homes under 70% occupancy could potentially lose funding as of July 1, 2019 with no opportunity to improve their resident census, occupancy level or reduce bed capacity according to state regulations.
Closures would not only affect workers, but also residents who benefit from receiving these services in Connecticut cities, where they can live closer to family, friends and their communities.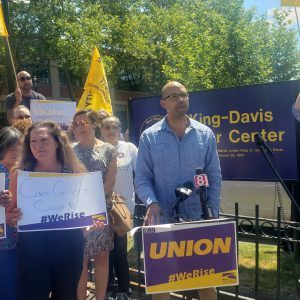 Most of the nursing homes due for potential defunding are concentrated in or around urban areas. Closing these facilities will mostly hurt workers and residents who are black and brown.
Some of these facilities offer special services that are not available elsewhere, including hospice and dialysis treatment services.
A press conference was held on Thursday, June 27th at 11:00 AM at the King-Davis Labor Center (SEIU 1199NE's Union Hall), located at 77 Huyshope Avenue in Hartford. Watch below:
Read more coverage from the following websites:
Skilled Nursing News – https://skillednursingnews.com/2019/06/union-joins-forces-with-genesis-to-stave-off-medicaid-cuts-nursing-home-closures/?fbclid=IwAR0cMKoL_VyXqUsR_8U6wMJJnTUJTuG903U6GL3IB_1TZLtoFfVJxyDX3eo
WTNH Channel 8 – https://www.wtnh.com/news/connecticut/states-largest-healthcare-union-to-work-with-genesis-healthcare-to-protect-nursing-homes/?fbclid=IwAR0uwRd_DMDkHENnmTKGfduchFT9Gwg7mbUTu4wAKlQ5Icuq4PgdjCKMyYw