As state-run mental health and addictions facilities are operating below 50% capacity, state healthcare workers and members of District 1199 New England held a rally on Tuesday at the DMHAS headquarters to call attention to the urgent need for increased staffing and expanded services. Mental health workers who provide lifesaving care to Connecticut residents in need of mental health and addictions treatment gathered at the DMHAS headquarters, waving signs reading 'communities suffer when services are denied' and 'Commissioner, come walk a day in our shoes'.
To watch the livestream of the rally, click here.
During the rally, frontline staff from Blue Hills Hospital (BHH) and Connecticut Valley Hospital (CVH) delivered a letter to DMHAS Commissioner Nancy Navaretta making clear their demands to expand access to vital services, fill hundreds of vacant positions, and restore state facilities to full capacity. As the opioid epidemic rages throughout the state and demand for mental health services skyrockets, healthcare workers at the rally lifted up the urgent need for DMHAS facilities to operate at full capacity.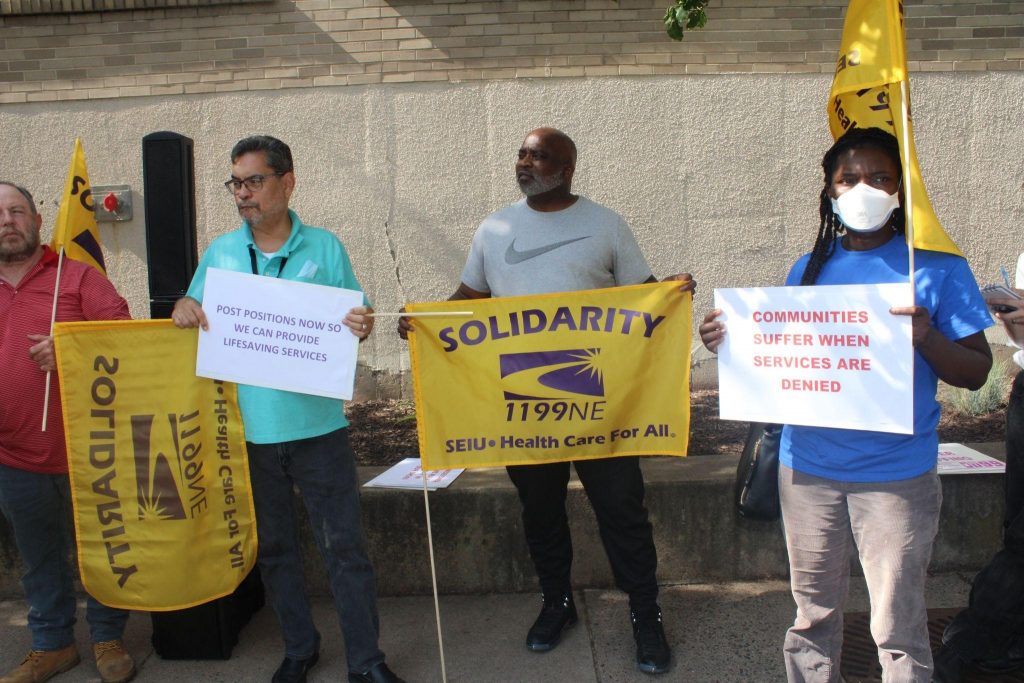 Media Coverage
"Drug overdose deaths have increased 100% since 2015, and the opioid epidemic is still growing. Connecticut Valley Hospital is one of the only facilities in the state offering comprehensive addiction care. It is our duty to serve the communities who need it the most, especially people of color and poor white individuals," Eugene Morton, Lead Mental Health Worker, Blue Hills Hospital, told the crowd. "It is unacceptable for CVH and other facilities to have empty beds and units. This is a matter of life and death, and DMHAS needs to treat it as such and fill 400 positions by August so we can treat our patients with the attentive, lifesaving care they deserve."
Connecticut Valley Hospital and Blue Hills Hospital are the only two facilities in the state that offer the highest level of medically managed addiction care. However, as of July 1, 2022, only 39% of the 152 beds across CVH and BHH are in use. BHH reports turning away an average of 20 patients a day because they don't have the staff to support their care. And, amid unprecedented demand for care, public healthcare services, like DMHAS, are facing a looming wave of retirements among essential staff. In June alone, there were over 1,100 retirements across state healthcare facilities, with 95 retirements specific to DMHAS. Heartbroken providers at the march shared their concerns about patients, who are unable to access care when they need it, calling on DMHAS to immediately post 400 vacant positions by August.
"Patients suffering severe mental illness deserve care from professionals who are at their best. We are here to help people recover from and manage challenging chronic illness. We want to see our patients learn coping skills and gain independence in managing their symptoms," said Damien Nuzzo, a Nurse Clinical Instructor at CVH. "When we are exhausted, short staffed, and demoralized, we cannot provide a high level of care. DMHAS needs to conduct mass hirings and not this fragmented approach to job postings so we can have the support we need to provide quality care."
DMHAS is responsible for ensuring lifesaving addiction and mental health services are accessible and affordable to all Connecticut residents, no matter their race, income, or where they live. During the rally, healthcare workers spoke to the need for comprehensive, holistic care for Connecticut residents experiencing mental health and addiction crises. Healthcare workers urged DMHAS to make every effort to recruit and retain staff, especially after significant improvements in hiring rates for state nurses, doctors, psychologists, and other providers were negotiated last spring.
"We are being asked to do more with less. While staff are retiring and vacancies aren't being posted or filled, we are struggling to continue to provide our patients with acute, quality care…We have the same number of patients who all need the care we provide, but there are fewer and fewer of us. We are exhausted," said Tamika James, Lead Forensic Treatment Specialist at Whiting Forensic Hospital.
Connecticut healthcare workers are demanding that DMHAS:
Post the job openings for Mental Health Assistants (MHA) and Forensic Treatment Specialists (FTS)
Restore the Addiction Services Division to its full 152-patient capacity at BHH and CVH by August 2022
Post the job openings for 400 staff by August to begin filling the 900 vacant positions in DMHAS
Develop a plan to expand capacity at CVH and BHH that meets the growing demand for lifesaving care
DMHAS commissioner walk a day in workers' shoes at the state's lowest-staffed facilities
FOR IMMEDIATE RELEASE: Wednesday, July 20, 2022
Contact: Nina Wheeler, nina.wheeler@berlinrosen.com, 339-234-0502 Pedro Zayas, pazayas@seiu1199ne.org