District 1199NE's Officers, Elected Organizers, rank-and-file Executive Board Members and Delegates — headed by newly-elected President David Pickus and Secretary-Treasurer Almena Thompson — were sworn in on November 9, 2011 in Hartford, CT by retiring President Carmen Boudier.
"Our focus must be about building greater strength for our members to win," said President Pickus. "Being engaged means we can win for all workers and their families, and therefore for ourselves, our families and the people we serve."

Secretary-Treasurer Thompson said, "I want to thank the thousands of 1199 members who participated in the voting. I wouldn't be Secretary-Treasurer today without your support and enthusiasm over the years. We face more challenges than ever before but I know together we can meet and surpass those challenges."
On October 24th, the rank-and-file Election Board met at the Plaza Hotel in East Hartford to supervise the counting of ballots by the American Arbitration Association (AAA).  Complete results by position for Officers, Elected Organizers and Executive Board are available by clicking the link below; results of the Delegate elections are being announced chapter-by-chapter.
Click here to download a complete list of the results of the 2011 District Elections.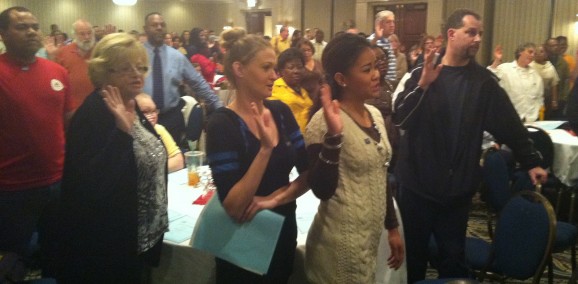 The term of office for the newly-elected team will run until May 14, 2014, as per the union's bylaws.