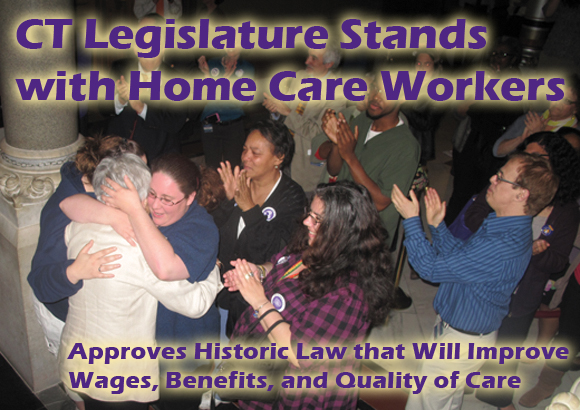 After 6 and a half hours of debate, the Connecticut State Senate passed legislation on May 3rd that grants family child care providers and home care workers the right to negotiate with the state for better pay and benefits and improved training.
"This is an exciting day for 11,000 Connecticut workers–who do some of the most important yet undervalued work in our society–caring for children, seniors, and people with disabilities," said SEIU President Mary Kay Henry. "This courageous act of giving low-wage workers a voice in their work will raise the quality of those services so that our whole society benefits."
Both child care providers and home care workers chose SEIU by overwhelming margins in union elections supervised by the American Arbitration Association–and followed that with hundreds of visits and phone calls to legislators explaining how an official voice with the state would raise up both the child care and home care professions.
After years of being denied the same rights as millions of other American workers, Connecticut home care workers and child care providers will finally be able to bargain for fair wages and benefits, program improvements.
"Before the General Assembly passed this bill, we didn't have the same rights that other workers in America have," said Belinda Haynes, a personal care attendant from East Hartford.
"It's like people think the work we do isn't important enough to worry about whether or not we need paychecks we can support our families on or health insurance to take care of ourselves if we get sick or injured, " said Haynes. "Now we know that our legislators do care about what happens to us, and our consumers. That means a lot to me and the people I care for."
"Parents can keep their jobs and can feel good about who takes care of their children and have stable childcare they can count on," said Annette Ridenour, a child care provider in New Haven. "Collective bargaining strengthens the workforce for child care providers because it allows us to be seen and grow as professionals," said Ridenour. "Our bargaining rights becoming law is a huge step towards a brighter future."
The legislation passed the House in April and now heads for the desk of Governor Dannel Malloy, who has enthusiastically endorsed the bill: " I believe our state government has an obligation to protect our most vulnerable, young and old alike. It's my hope that elected representation will lead to better wages, and therefore more stability in each of the fields – a development that will help both client and care workers," he said in a statement released moments after Senate passage.