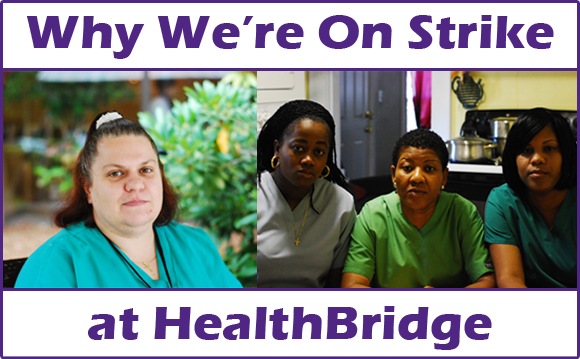 1199 caregivers at five HealthBridge nursing homes in Connecticut began strikes on July 3 over unfair labor practices after the company unlawfully ended negotiations and unilaterally implemented what it claimed was its "last, best and final" offer.
"Day after day for the last 16 years, I have worked to provide the best care possible to my residents," said Eva Fal, a worker at the Newington Health Care Center, "and I have never seen owners as profit-hungry as the owners of HealthBridge, the Straus Brothers. They make millions and millions of dollars in profits each year – but they have the nerve to say that our pay and benefits aren't 'realistic'?"
Click here for a round-up of the media coverage of the strike so far.
Click here to read about the NLRB's action on July 6 to issue its fifth complaint against HealthBridge for violating the law.
Click here to see a timeline and background of recent events at HealthBridge.
The illegally imposed changes gut virtually every right and standard HealthBridge workers had, cutting workers' weekly hours, making health insurance unaffordable with annual premiums soaring to more than $8,000 per year for many employees, and ending any retirement security the workers could hope to have after a lifetime of challenging and often backbreaking work.
All told, more than 500 Connecticut nursing home workers will each lose an average of over $10,000 per year for the next six years because of the changes – adding up to close to $30 million that will be directly transferred out of caregivers' pocketbooks and the Connecticut economy and into the Straus Brothers' bank accounts.  (Read news coverage about the HealthBridge's decision from the CT Post and the Hartford Courant).
By an overwhelming margin of more than 25-1, hundreds of frontline CNAs, Med Techs, housekeepers, and more voted on June 20 to send a ten-day strike notice.
"By their outrageous, inhumane and unlawful actions, HealthBridge has given workers no other alternative," said 1199 President David Pickus after the vote. "As when they locked us out at West River, this for-profit, out-of-state corporation has demonstrated absolute contempt for the law, for their employees and for the nursing home residents who depend on those employees for care."
"Over the past two years more than 50 nursing homes across Connecticut have successfully negotiated collective bargaining agreements with their employees," continued Pickus. "HealthBridge is completely isolated in its stubborn insistence to lower the living standards of nursing home workers in order to increase its profits."
"This is yet another instance of the wealthy 1% waging war on the 99% of us who work for a living. But our members have declared loudly that they intend to defend themselves and their communities."
HealthBridge has already been the subject of four National Labor Relations Board Complaints citing bad-faith bargaining and other illegal behavior; charges have been filed with the Labor Board over the implementation of the massive concessions, which the company "announced" by sending an email at 11 PM on Saturday, June 16th informing 1199 that the implementation would begin on Sunday morning.
The strikes are taking place at the Danbury Health Care Center, Long Ridge of Stamford, the Newington Health Care Center, the West River Health Care Center (in Milford) and the Westport Health Care Center. Earlier this month, the State of Connecticut gave HealthBridge permission to close the Wethersfield Health Care Center and the company did not implement new wage, benefit and working conditions at that facility as it closes. The closure of Wethersfield, and threats to close other HealthBridge homes, are part of the National Labor Relations Board case against the company.
---
More background on HealthBridge: