Health care workers stood along Route 195 out in front of Natchaug Hospital in Mansfield Thursday afternoon as they waved signs and used megaphones to demand better workplace protections during the COVID-19 pandemic.
In the steady rain, members from two unions and supporters from other labor organizations formed a picket line as they criticized the hospital's owner, Hartford HealthCare, for a lack of proper infection control guidance, staffing ratios and other safety actions during the coronavirus outbreak.
As COVID-19 activity grows in many communities, unionized workers say they want to see immediate action.
"We don't feel safe, but we come in anyways," said Klari Esmaieli, a registered nurse and vice president of Natchaug Hospital Unions United, AFT Connecticut Local 5052.
The picket was informational in nature and not a strike — workers who participated did so on their personal time off.
Esmaieli said that over the last several months, health workers have been pressuring hospital management for adequate personal protective equipment, direction from infection control experts and smaller staff-to-patient ratios.
But it's been an uphill battle, she said.
"We have been telling them from the get-go, we need to do something," Esmaieli said.
Hartford HealthCare recently updated its guidance on how masks are distributed to workers at the hospital. In a memo earlier this month, officials said new masks, including surgical and N95 masks, will be available daily to clinicians and colleagues who spend most of their day doing direct patient care.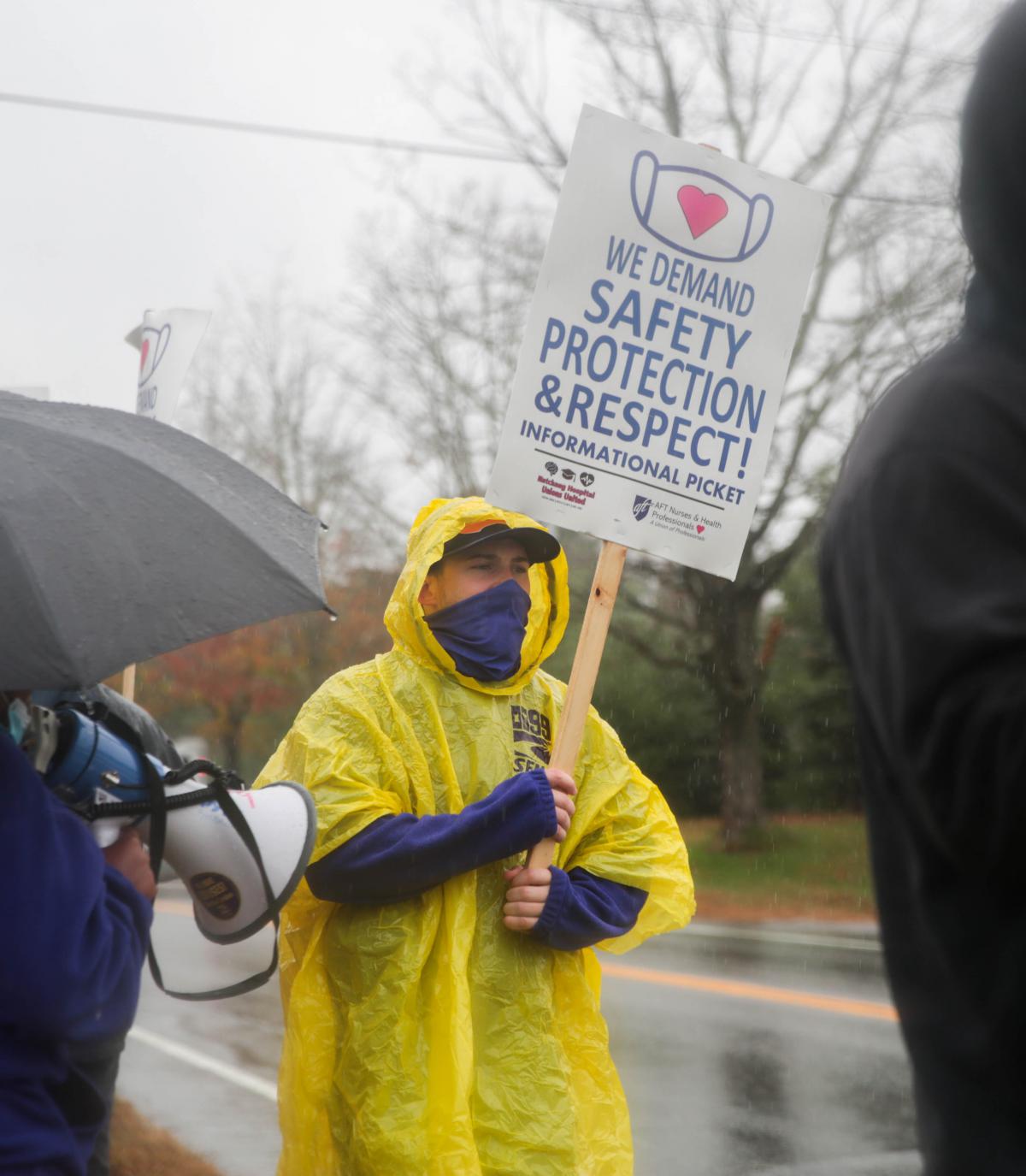 The announcement came after the federal Occupational Safety and Health Administration cited the hospital and its owners in September for at least two "serious" workplace safety violations.
The network faces more than $13,000 in fines and has stated that it will challenge the citation.
Lauren Shirshac, a mental health worker at the hospital and member of Local 1199 SEIU, said the mask change was a positive step, but it falls short of what needs to be done.
"We have been fighting for months now for them to recognize certain things, and they're finally doing it," she said, "but I would definitely have to say that a baby step is a little bit too small for us for what we're asking for."
Both Local 1199 and AFT Local 5052 are in contract negotiations with the hospital.
In a statement, Hartford HealthCare officials said the hospital is "committed to treating patients and colleagues with dignity and respect" and that "we are dedicated to negotiating in good faith to reach a new collective bargaining agreement."
Among workers' top priorities is to get at least a three-month stockpile of PPE. Picketers said they want to be prepared to care for patients who may have, or are suspected of having, COVID-19 this winter.
Tammy Anderson, a certified occupational therapy assistant and Local 1199 union delegate, said she also wants to see more urgency in filling open staff positions at the hospital and a more effective hiring process.
"Constantly having understaffed areas, it creates havoc, unsafe working conditions. And it also creates unsafe situations for our patients," she said.
State leaders, including local legislators, U.S. congressmen and Lt. Gov. Susan Bysiewicz, stopped by the picket to support the health care workers.
Story from Nicole Leonard of WNPR
View portions of the livestream from our Facebook page here!