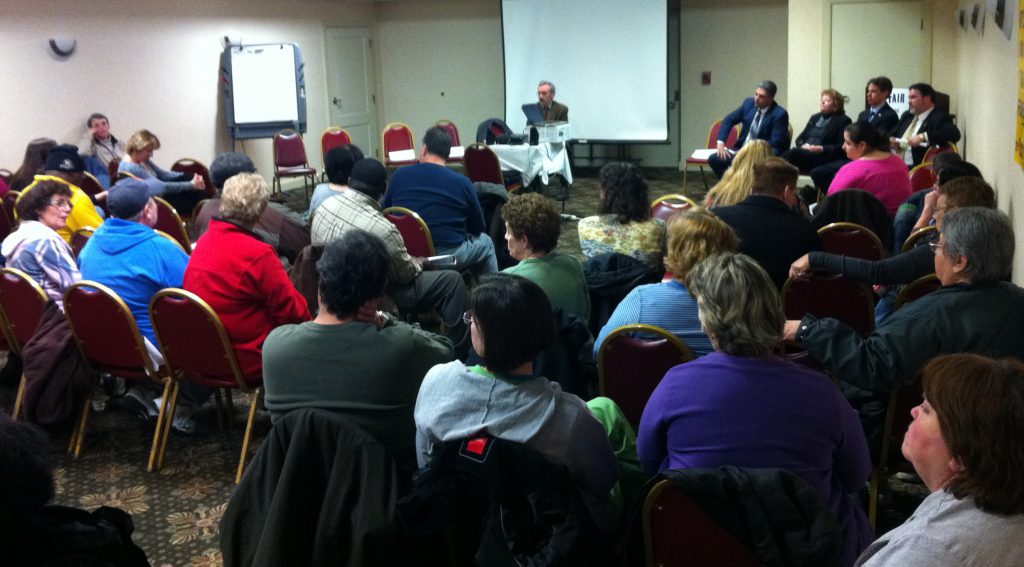 Nearly 50 members of 1199 who live and work in the Pawtucket and Central Falls area gathered at a forum last night to describe the harmful impact that budget cuts have had on the people that we serve, as well as on our own families.  The forum was attended by four area State Representatives — Bob DaSilva, Mary Duffy Messier, Jay O'Grady, and Gus Silva — who listened to powerful testimony and answered questions for nearly an hour.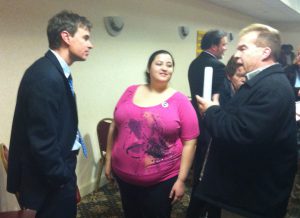 Workers from the Blackstone Valley ARC, who care for the developmentally disabled in a community-based agency with both residential and day programs, talked about the harmful impact of last year's $24 million in cuts on the consumers they care for – including cuts in services that diminish the quality of care.  Amanda Hitchener, a direct care staff member asked the elected officials:
Do you remember the Ladd School? That was where the state basically kept developmentally disabled people locked away out of sight and didn't invest in their care.  With these budget cuts, we're heading back to that model — and it's wrong.
Other BVARC workers spoke about the impact of the cuts on their wages, which were already so low that many of them to struggle to keep a roof over their heads.
Nursing home workers from Genesis of Pawtucket & Greenville testified to many of the same issues – staffing ratios that can sink as low as one CNA per 20 residents and reduce the level of attention and care that each resident receives, and their current struggle with their employer, who wants to force them to accept a health care plan that is thousands of dollars more expensive than their current plan.
Debbie Mosley, a Dental Assistant and union delegate at Blackstone Valley Community Health Care, Inc. added that many of the patients that receive dental care at their clinic are now at risk of losing their Medicaid dental coverage in next year's proposed budget.  She reminded the elected officials:
As health care workers, we are doing valuable work and providing an important service, but now because of all the tax breaks for the rich you are saying that we have to take a cut.  But trickle-down economics doesn't work.  It doesn't work!  These rich people keep getting all the tax breaks to supposedly create jobs – but where are the jobs?
Many 1199 members from Women & Infants Hospital also attended, and lent their support to the struggle to make sure that our communities get the resources necessary to care for our neighbors and our own families. Sukie Ream, a nurse in the Labor Room who also lives in Pawtucket, added:
We appreciate the legislators who attended and listened to our concerns.  We hope they leave with a deeper understanding of how every decision they make has an impact on real people, and a deeper commitment to go back and fix these problems.  And we hope they share this knowledge with their colleagues, especially the ones that were invited that didn't show up.
For our part, 1199 members in Rhode Island are going to continue organizing and educating our elected officials to make sure that they hear the voice of health care workers and those we care for.